Are you searching for the details about the D mart Kotak Cashback offer? Today we share complete details about the Dmart Kotak 7% Cashback offer as details about the offer are not given on the Offline store & very few details on the online portal as well.
Once you have gone through today's post you will have complete information about this new offer which is running in the D mart grocery stores & running for online grocery shopping as well.
D Mart Kotak 7% Cashback Offer Nov 2022 Details
Dmart is one of the largest retailers for grocery shopping & most preferred shopping destination. They have now more than 300 stores in the Indian cities near you. Recently they have launched a cashback offer for grocery shopping after a long time. You can check from the official Kotak Bank website.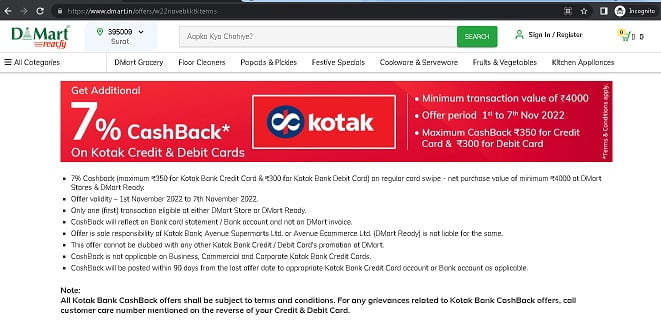 | | |
| --- | --- |
| Cashback offer | Details |
| Name | 7% Cashback Dmart Grocery Shopping |
| Bank Name | Kotak Bank |
| Offer validity | 1st November 2022 to 7th November 2022 |
| Offer validity | 1st to 7th December 2022 |
| Valid Online | Yes |
| Valid Offline | Yes |
This cashback offer is valid for online shopping & offline shopping as well. Earlier they used to offer online shopping only. This time offline shoppers can avail of this offer as well.
Cashback details;-
Below are the details of Cashback, Check the details about Maximum cashback eligibility & Minimum transaction details.
| | |
| --- | --- |
| Minimum Transaction | Rs. 4000 |
| Maximum Cashback | Rs. 350 (Credit Card) |
| Maximum Cashback | Rs. 300 (Debit Card) |
| Cashback Date | After 90 Days |
| Instant Cashback | No |
| Cashback Shown in | Bank Statement |
How to Avail of the cashback through online shopping?
To avail of the cashback through online shopping, please note that the minimum shopping value should be equal to or greater than Rs.4000. This is the first term & condition for availing the cashback from Kotak Bank.
Follow the below steps to avail the cashback from the online shopping app or portal. More details from the official Dmart website is here.
Use your Credit or Debit card during the checkout.
How to Avail from the Retail store (offline)?
To avail of the offer at the nearest D mart store. Find a nearby store from our list. Always remember to ask the cashier to use your card for the shopping. Give your credit or debit card during the billing process.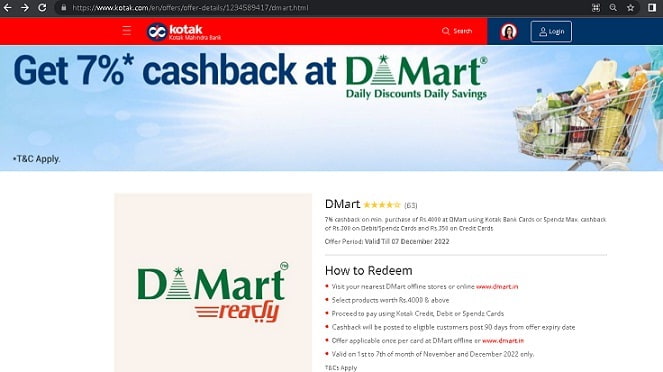 Always remember the below-given terms & conditions to avail of the cashback.
DMart Cashback Offer TnCs
7% cash back on the net purchase value of a minimum of Rs.4000 at DMart offline stores or online
at www.dmart.in (DMart Ready)
Offer validity – 1
st
November to 7th November 2022 and 1st to 7th December 2022 (both days
inclusive)
Maximum Cashback of Rs.300 on Debit Cards and Rs.350 on Credit Cards
The maximum amount of Cashback that a customer is eligible to receive from Kotak Bank during
the entire duration of the offer shall be once every month (Single or Multiple Invoices)
Offer applicable only once per month, per card either at DMart offline or DMart Ready (online)
Cashback will reflect on Kotak's Credit Card statement/bank account and not on the DMart Invoice.
Kotak Bank will process the cashback within 90 days from the offer expiry date.
Offer is the sole responsibility of Kotak Bank. Avenue Supermarts Ltd (offline)/Avenue Ecommerce Ltd
(DMart Ready) is not liable for the same.
Offer is applicable only on Retail credit cards and not applicable on Business, Commercial and
Corporate Credit Cards.
This offer cannot be clubbed with another debit/credit card promotions at DMart offline store or
DMart online.
Participation in this Offer is voluntary.
The Offer is non-transferable, non-encashable, and non-negotiable.
Any Customer eligible for the Offer shall be deemed to have read, understood, and accepted
these terms and conditions, general terms and conditions of the Bank, and terms and conditions
of the Merchant in relation to the Offer before availing the Offer. Bank merely facilitates its
Customers are to avail of the Offer and it is in no way concerned or connected in respect of the terms
and conditions of DMart
The Bank shall not be responsible or liable in any manner whatsoever for any deficiency or
inadequacy in the services rendered by DMart, its employees, store staff, or representatives and
the Customer hereby understands, acknowledges and agrees not to hold the Bank responsible or
liable for, any losses, damages, costs, charges, expenses, claims (whether direct or indirect),
actions or demands suffered by the Customer in relation to availing the benefits under the Offer.
The Bank and DMart reserve the right to disqualify any Customer from the benefits of the Offer
if any fraudulent activity is identified as being carried out for the purpose of availing the benefits
under the Offer or otherwise by use of the Card.
The Bank holds out no warranty or makes no representation about the quality, delivery or
otherwise of the goods and services offered by DMart. Any issue or dispute or claim regarding
the goods and services must be resolved by the Customer with DMart directly without any
reference to the Bank.
The Offer shall be non-negotiable, non-encashable, non-transferable, and is for one-time use,
which cannot be clubbed with any other Offer.
The decision of the Bank and DMart in all matters in connection with and incidental to this offer
is final and shall be binding on all persons.
All taxes, duties, levies or other statutory dues and charges payable in connection with the
benefits accruing under the offer shall be borne solely by the cardholder and DMart will not be
liable in any manner whatsoever for any such taxes, duties, levies or other statutory dues.
If a card member has more than 1 (one) Kotak Mahindra Bank Debit or Credit Card, spends on
the cards cannot be clubbed by the card member to qualify for the said offer.
Disputes, if any, arising out of or in connection with or as a result of the above Offer or otherwise
relating hereto shall be subject to the exclusive jurisdiction of the competent courts/tribunals
in Mumbai.
Note: All Kotak Bank Cashback offers shall be subject to terms and conditions. For any grievances related
to Kotak Bank cashback offers, call the customer care number mentioned on the reverse of your Credit or Debit Card.
FAQ
What is the Minimum Shopping Value to avail the Cashback offer?
Rs. 4000 is the minimum shopping required to eligible for the cashback offer.
What is Maximum Cashback limit during the period?
For credit card maximum cashback is Rs.300 & for Debit card its Rs.300.
What is the offer period for 7% Cashback?
Offer valid from 1st November to 7th November 2022 & 1st December 2022 to 7th Decmber 2022.
Is there any cashback offer from Dmart grocery store?
Yes, Kotak Bank is offering 7% Cashback for online & offline shopping.
Concluson;- Dmart grocery stores are best known for offering huge discounts on daily grocery & household items. Buy 1 get 1 free & Buy 2 get 1 Free is their core offers for grocery shopping.
7% Casbhack offer is additional benefit which ever shopper must avail for maximum benefits.