It's good news, now Dmart Ambernath West is open. This is the second store in Ambaernath near Kalyan Badlapur main road. Today we share full details about the store, exact address, contact number, timings & grocery products details.
Dmart Ambernath West- Kalyan Badlapur Road Details
Let's discuss the details of the new grocery supermarket. As you can see in the below screenshot from the Dmart India official website. So now it's clear that the store is operational now.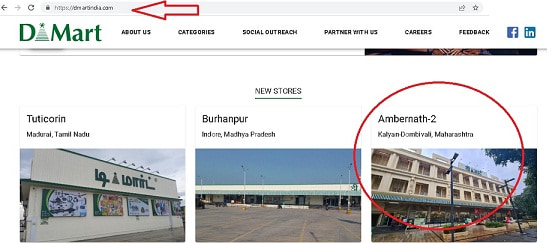 This new store is running successfully in the new location at Ambernath west area. This new store has lowered the rush at the first store. Earlier there was only one store in Badlapur & Ambernath area. People were used to rushing to the store.
Now people from the nearby area can visit the store in the Badlapur & Ambernath road new Dmart store. As compared to the other store it offers the same products & services offered by other branches in the nearby locations.
This store is located on Kalyan-Badlapur Road, opposite Ordinance Factory Ambernath.
| | |
| --- | --- |
| D'mart Ambernath West New Store Address | Kalyan – Badlapur Road, Ambernath West, Opposite Ordnance Factory, Ambarnath Maharashtra 421502 |
| Phone Number | +91 22 33400500 |
| Contact Number | +91 22 33400500 |
Google Map & Landmark Details
If you are unable to find the location, use the Google Maps location so you can easily reach there for shopping.
What are the nearest landmark details?
Ambernath Ordinance Factory is the nearest landmark. This new store is located opposite the ordinance factory in Ambernath main road area.
What is the nearest Bust Stop?
I.T.I. Ambarnath आई.टी.आई अंबरनाथ is the nearest bus station, you can easily locate the store from this bust stand.
How to reach the store?
As the store is located in the main road area, one can easily reach there via car, bus or railway station. Autos are also standing outside the new supermarket. Scroll down below for more details;
What is the nearest Railway Station?
Ambarnath Train station is the nearest railway station, just 1.8 Km away from the supermarket.
Parking & Checkout Counter Details
This store is located in a standalone building. As the store is very big in terms of space, they have a vast parking area for your vehicles. During rush, you can park your vehicle outside the mall as well.
This store followed the quick checkout counters policy. If you have less than 10 items then you may reach the special counter, where people are standing with less than 10 pcs only. Ample checkout billing counters are there. More than 20 billing counters are present in the store.
Nearest Dmart in Ambernath area;
If you come for shopping from the nearby area you may want to have details about the other locations in the area. Check below for details of the nearest Dmart store in this area.
| | |
| --- | --- |
| Ulhasnagar | 65WC+F4G, Century Rayon Colony, Shahad, Ulhasnagar, Maharashtra 421103 |
| Ambernath Badlapur Road | Ambernath – Badlapur Rd, near Naval Materials Research Laboratory, Chikhloli, Badlapur, Maharashtra 421506 |
| Kalyan West | 64QG+4G9, Bhanu Sagar Talkies, Bhanunagar Kalyan(West), Bail Bazar, Bhoiwada, Kalyan, Maharashtra 421301 |
| Ambernath Vailankanni Apartment | Vailankanni Apartment, Shop No. 1, 2, & 3, near Hanuman Temple, Vandrapada, Ambernath, Maharashtra 421501 |
What are the Timings of the store in Ambernath West?
As this store is new & they are gaining popularity very quickly check the timings of the store. The new store follows the below timings daily.
| | | |
| --- | --- | --- |
| D Mart | Opening Time | Closing Time |
| Monday | 7:00 AM | 11:00 PM |
| Tuesday | 7:00 AM | 11:00 PM |
| Wednesday | 7:00 AM | 11:00 PM |
| Thursday | 7:00 AM | 11:00 PM |
| Friday | 7:00 AM | 11:00 PM |
| Saturday | 7:00 AM | 11:00 PM |
| Sunday | 7:00 AM | 11:00 PM |
As suggested in the above table, the store opened daily at 7:00 AM morning & closes at 11:00 pm daily.
Above are the standard timings of the store, you are requested to plan your shopping accordingly.
Dmart Ambernath West- Kalyan Online
Online shopping & home delivery services are active in Ambernath & Kalyan areas. You can find more details about how to order online from Dmart. Before placing an order online check the Pincode list for home delivery.
FAQ
How many Dmart stores are there in Ambernath city?
2 stores are there, 1st Ambernath East & 2nd new store Ambernat West.
What is D mart Ambernath West's address?
It's located at; Kalyan – Badlapur Road, Ambernath West, Opposite Ordinance Factory, Ambarnath Maharashtra 421502.
Does it provide home delivery through online shopping?
Yes, they provide delivery through online shopping. Dmart Ready is their online shopping app name & www.dmart.in is the website for online shopping.
Final Words:- As the store is just been launched a few months back. Dmart Ambernath West received a 4.2 rating in the reviews. Well, so far only 259 reviews have been posted on the Google page of the grocery supermarket.
Well, this was a much-needed store in the city area. Earlier people used to go to Kalway or Badlapur Dmart for grocery shopping. Both of these stores are far from the Ambernath west area.