Great news for people around the Chembur area, Dmart Chembur is now open to the public as this is open on 15 April 2023. The growth of the Avenue Supermart retail store is going high. Now they have more than 80 stores in Mumbai, Locate the nearest store from the store locator page.
Today we share complete details about the newly launched store. The grocery store of Dmart is the one-stop shopping destination for all your monthly shopping lists. You find everything here at very cheap & discounted rates
Where is Dmart Chembur Dukes Located?
The address details of the store are given below. You can easily & quickly locate the new store. As it's a new store so you might not find details on Google as well. We have collected the details for your quick reference here.
This store is located near the old Dukes company in Chembur.
| | |
| --- | --- |
| Chembur Dmart Address | Plot bearing C.T.S. No. 653/5(pt), 659A & 660 of Village Borla at, Waman Tukaram Patil Marg, MBPT Colony, Best Colony, Chembur, Mumbai, Maharashtra 400088 |
| City | Mumbai |
| State | Maharashtra |
| Pincode | 400088 |
Google Maps Location of the store; D Mart Chembur
What is D'mart Chembur's Contact Number?
This supermarket is located in the heart of the city. Earlier people from the area used to go to different locations for shopping. But with the opening of this store, they have the option to shop from the best supermarket in the Chembur area.
Below are the contact details of the new Chembur Dmart store.
Having details of customer care and always great whenever you have any complaint or any query. These details give you the power to speak with the company representative directly.
Is New Dmart in Chembur the Biggest Dmart in Mumbai?
The new Dmart store in Chembur seems to be the Biggest D mart in the Mumbai city area. This store is spread over a vast area covering all the products that you find in any grocery store.
They have huge racks to keep the stock on the shelves. Moreover, they have 20 Billing counters always running for a better customer experience.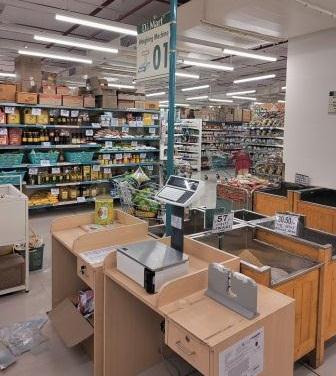 For customer service, they have a dedicated Customer service desk. Trolleys and baskets are provided to every customer so they can do their shopping conveniently.
What are the latest grocery offers from Dmart in Chembur?
You don't need to wait for any occasion to shop at Dmart supermarket. They are giving a flat 7% discount on all the grocery items daily. It makes the supermarket the best grocery shopping destination in Mumbai city.
So Far Smart Bazaar, and Smart Point & their grocery retailer try to offer a similar discount, but people prefer Dmart. Below are the latest offers for grocery shopping.
| | |
| --- | --- |
| Grocery Items | Minimum 7% Discounts |
| Houseware Items | Flat 10% Off |
| Ladies & men Deos | Buy 1 Get 1 Free |
| Facewash & Body Wash | Buy 1 Get 1 Free |
| Atta, Besa, Maida | Buy 1 Get 1 Free |
How to Do Online Shopping in Chembur?
Online shopping is already active in the Chembur area from Dmart Ready. Now they have added a new store of Chembur in their online shopping app.
You can start online shopping & get home delivery from the Chembur store now. Check how to order from Dmart online & details about their Dmart Ready online shopping app.
What are Dmart's Timings for Today? Store Opening & Closing Time?
As the store serves Dairy & Milk products they are open at 8:00 AM for customers. D mart never closes the store be it Saturday or Sunday, they are open all days of the week.
So if you are looking for the details of the timing, check the table for more clarity.
| | | |
| --- | --- | --- |
| Days | Chembur Dmart Opening Time | Chembur Dmart Closing Time |
| Monday | 8:00 AM | 11:00 PM |
| Tuesday | 8:00 AM | 11:00 PM |
| Wednesday | 8:00 AM | 11:00 PM |
| Thursday | 8:00 AM | 11:00 PM |
| Friday | 8:00 AM | 11:00 PM |
| Saturday | 8:00 AM | 11:00 PM |
| Sunday | 8:00 AM | 11:00 PM |
FAQ
Where is New Dmart Located in Chembur?
New Dmart Chembur Address: D-Mart, N.A. Waman Tukaram Patil Marg, Near shatabdi Hospital In Chembur, Govandi East, Chembur, Mumbai-400088.
What is Dmart Chembur Opening Date?
The new store opened on 15th April 2023.
Is Dmart Chembur Open Today?
Yes, the store started servicing the customer on 15th April 2023. It opens at 8 AM daily and closes at 11 PM.
Conclusion:- This new store in Chembur City is the new hot shopping destination in the city. With the launch of the new store, they have enhanced the shopping experience for customers. Now they have a wide aisle area so customer care easily roams around.
Online shopping from the supermarket is live as well. Check Dmart's latest offers and online shopping details & save on grocery shopping.