D'mart in Velachery Chennai Store Details
Today we will give you full information about the 2nd D'mart in Velachery Chennai. We will give information about the store address, Contact number and online shopping for home delivery. Dmart Chennai Velachery store is located in Grand Square in Velachery Chennai. The grocery shopping store is best known for providing cheap & discounted items daily.
Dmart Chennai Velachery Grocery Store Details
This store was recently opened on 11th December 2021. This store is located on the ground floor. This is the second d mart store in the Chennai area. In terms of space & area, it's a huge store in the city.
They have multiple floors in this store as this is located in the mall.
Velachery Dmart Store Floor Details
They have multiple floors in this store. On the Ground floor, they have all provisions and other plastic items available. On the First Floor Dresses, toys, slippers shoes, bedsheets, electric instruments, floor mats, etc are available.
One can take the trolleys to the first floor via a lift. But it can accommodate only 2 trolleys along with 7 members. The lift can be a little bigger to accommodate more people. Prices were very low when compared with the other stores.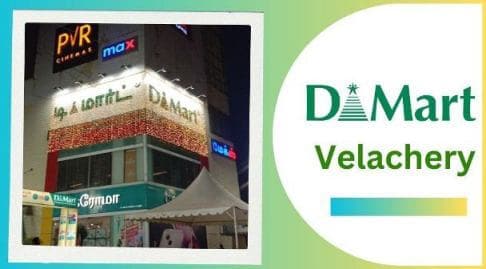 Parking Details
Mainly we can get free parking for 2.5 hours if we have purchased for Rs.500 or more. While entering the Mart we need to mention our parking token and details.
No big-size bag is available with them as of now. We loaded the things into the trolley and filled them out in our car in front of the mall since no big bags were not available.
The billing was a bit crowded and ultimately a little earlier than expected. The staff was very polite and helpful. Overall value for the purchase and it will take around 2 hours to complete the shopping.
Now this company has more than 300 grocery stores in India. They are opening new stores in various cities in India.
Chennai location store address:- Dmart store is located as below:-
D'mart Velachery Contact Number Details
| | |
| --- | --- |
| D mart Velachery Chennai Address | Grand Square Mall, 46, 1st Main Rd, V.O.C Nagar, VGP Selva Nagar, Velachery, Chennai, Tamil Nadu 600042 |
| Phone Number | 022 6850 2300 |
| Velachery Home Delivery Number | 022 6850 2300 |
Dmart Velachery Chennai, Tamilnadu Customer Care Number
The Customer care number is given above, contact them for any information.
What is D mart Chennai Reviews?
If you are looking for Reviews about the Chennai store then read on. You may find various reviews about their store. Below are the details about the thoughts of Dmart in Chennai.
| | | | |
| --- | --- | --- | --- |
| Sr.No. | Nearest D mart Velachery Store Reviews | Rating | Total Reviews |
| 1 | Chandra Metro Mall, Arcot Road, Rajeswari Colony, Virugambakkam, Chennai, Tamil Nadu 600092 | 4.3 | 13195 |
| 2 | 47, Mount Poonamallee Rd, Kamatchi Nagar, Mahalakshmi Nagar, Kattupakkam, Chennai, Tamil Nadu 600056 | 4.0 | 3659 |
| 3 | Grand Square Mall, 46, 1st Main Rd, V.O.C Nagar, VGP Selva Nagar, Velachery, Chennai, Tamil Nadu 600042 | 4.2 | 2129 |
| 4 | Dmart Perungudi Chennai, 144, Corporation Rd, Saravana Nagar, Perungudi, Chennai, Tamil Nadu 600096 | 4.2 | 142 |
Chennai Velachery Store Images
Below are the images of the store.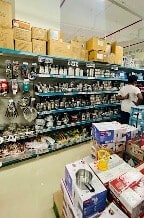 Velachery Chennai Products Price List
It is vast and has got almost everything. Currently, offers are ongoing. You will not get fruits or vegetable items here. The ground floor includes food items, grocery items, kitchenware, etc. and the second floor includes clothing and footwear.
A good parking space and a washroom and changing room inside the mall are provided.

There are other grocery stores like Big Bazaar, and Reliance & online shopping grocery apps, but people love to shop from D mart in the city.
D'mart is a supermarket & that offers various products from Groceries to Fashion. Below is the list of the products provided by the Valechary Dmart grocery store.
Dmart Velachery Chennai Store Timings near me
Timings of the store for opening & closing are given below. You can check the timings & plan your visit once they start their operations. Dmart Velachery's timings may be affected due to local restrictions & administration.
| | | |
| --- | --- | --- |
| Day | Dmart Velachery Opening Time | Dmart Velachery Closing Time |
| Monday | 8:00 AM | 10:00 PM |
| Tuesday | 8:00 AM | 10:00 PM |
| Wednesday | 8:00 AM | 10:00 PM |
| Thursday | 8:00 AM | 10:00 PM |
| Friday | 8:00 AM | 10:00 PM |
| Saturday | 8:00 AM | 10:00 PM |
| Sunday | 8:00 AM | 10:00 PM |
Dmart Velachery Timings
Is d mart Velachery open on Sunday?
Yes, as per the timings of the store, they are open 7 days a week.
Dmart New store in Vellore Open Now
Dmart Chennai Online Shopping
How to order online from Dmart near me in the Chennai area?
The online platform for home delivery from Dmart is Dmart.in, you can also download through from their app. Below given is the process for their home delivery;-
D'mart Home Delivery Process
1-Download the Dmart Ready App from the Play Store or iOS Store.
2- Complete the registration process.
3- Select your PIN code from the selection menu.
4- Add products of your choice to your CART.
5- Complete the CHECKOUT process.
6- Receive the home delivery at your home.
D'mart career & Job Vacancy Details
There is various job vacancy at the Dmart Chennai grocery store. You can contact the Store Manager. The best way is to visit the store with your updated Resume & other details. Meet the Store HR manager & ask for any job vacancy at the store.
How to Apply for D Mart Supermarket Job Vacancy in 2023
Firstly Open the DMart Career Page is www.dmartindia.com
Now search for a vacant post using keywords or location or skills etc.
Read eligibility norms and check their status.
Now click on the Apply button, and you will be redirected to the log-in page.
Provide login information like your username and password.
New users click "Create an account" to apply for DMart career opportunities.
Complete details carefully and upload biodata.
Finally, take a printout of the application with a registration number.
FAQ
Which is the nearest landmark?
Grand Square Mall is the nearest landmark.
Does Dmart sell fruits & vegetables?
No, they don't sell fruits & vegetables from the grocery store.
Is D mart Chennai open today?
Yes, the store is open Monday to Sunday, check the store timings as given above.
How to reach the Dmart in Velachery city?
Velachery Railway Station is the nearest station.
Does this d mart have trolley bags?
Yes, they have a vast variety of Trolley bags; Soft & hard trolleys.
Is Men's apparel available in Velachery Dmart?
Yes, they have the latest range of men's Casual wear, formal wear & partywear range in the store.
Are brass Pooja items available?
Yes, they have a section for Pooja items, you can find various items there.
Conclusion;- Dmart Velachery store provides the best products at a very cheap rate. They don't only sell groceries but fashion apparel products as well. Cashback offers are also active in D mart stores these days. Velachery D Mart online shopping services are active.